Sesame Street / Big Bird
Television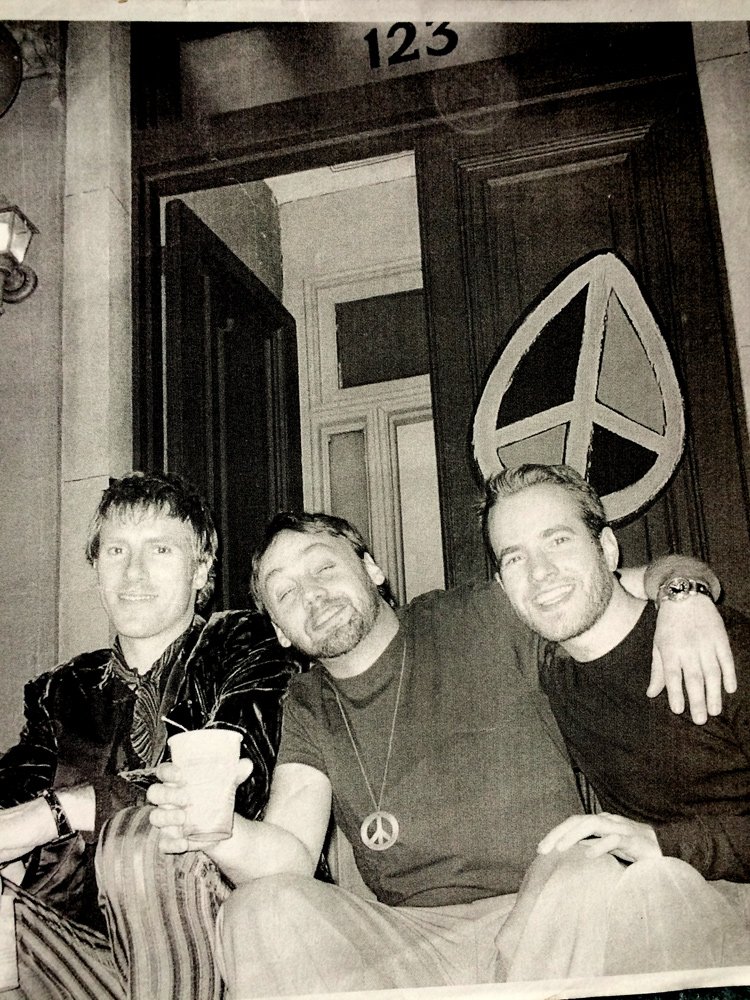 James worked with a tremendously talented crew of wonderful fabricators for a few years. The crew became very close and worked joyously and effortlessly together. They went from production to production together, from Little Shop of Horrors, to Avenue Q, to Sesame Street, where James had the honor of working on the construction of Big Bird.
The Big Bird performer is completely enclosed within the costume, and extends his right hand over his head to operate the head and neck of the puppet. The Muppeteer's left hand serves as the Bird's left hand, while the right hand is stuffed and hangs loosely from a fishing line that runs through a loop under the neck and attaches to the wrist of the left hand. The right hand thus does the opposite of the left hand: as the left hand goes down, the right hand is pulled up by the fishing line. For some of the Journey to Ernie segments, a second puppeteer (usually Jim Martin) controls Big Bird's right hand. He is concealed by dressing in a body suit the same color as their chroma key background (something that obviously cannot be done on the main Sesame Street set). Big Bird's body suit weighs ten pounds, and his head weighs four pounds. According to writer Louise Gikow, the heat inside the suit is "unbearable, and it's extraordinarily difficult to hold Big Bird's head."
Big Bird doesn't look the same in some international versions of Sesame Street. For example, in the Dutch version, Big Bird is blue and is called Pino.
Big Bird's appearance has changed over the years, as has his personality. He originally had very few feathers on top of his head; his body feathers were also more shaggy and unkempt, and his body was not as rounded and full as it is now. His personality was more dopey and (to use an epithet that may have logically inspired this portrayal, since he is a bird) "bird-brained" than it later became. He gradually got more feathers on top, giving his head a more rounded appearance, and developed a blaze-like crest of lighter yellow feathers above his eyes. His body got fluffier, rounder and more well groomed as well. His personality developed over time from being a dim, slow-witted character into the childlike innocence he is known for today. Although all the Sesame Street Muppet characters are technically ageless, Big Bird is psychologically written to represent a six-year-old.
The costume is partially assembled by company American & Fancy Feather, using the tail feathers from turkeys; as the feathers are rarely clean, company owner Anthony Trento calls the Big Bird costume his "toughest customer". Sesame Workshop is said to reject roughly 90 percent of all the feathers selected for use on the costume.
Big Bird is the main protagonist of the children's television show Sesame Street. Officially performed by Caroll Spinney since 1969, he is an eight-foot two-inch (249 cm) tall bright primrose-yellow bird. He can roller skate, ice skate, dance, sing, write poetry, draw and even ride a unicycle. But despite this wide array of talents, he is prone to frequent misunderstandings, on one occasion even singing the alphabet as one big long word (from the song called "ABC-DEF-GHI," pronounced "ab-keddef-gajihkel-monop-quristuv-wixyz"), pondering what it could ever mean. He lives in a large nest behind the 123 Sesame Street brownstone and has a teddy bear named Radar.