Spiderman * Turn Off the Dark
Theater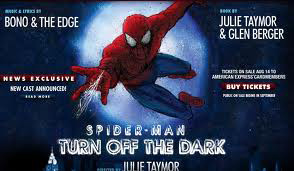 Spider-Man: Turn Off the Dark
Music Bono and The Edge
Lyrics Bono and The Edge
Book Julie Taymor
Glen Berger
Roberto Aguirre-Sacasa
Basis Spider-Man
by Stan Lee
Steve Ditko
Productions 2011 Broadway
Spider-Man: Turn Off the Dark is a 2011 rock musical with music and lyrics by U2′s Bono and The Edge and a book by Julie Taymor, Glen Berger, and Roberto Aguirre-Sacasa. The musical is based on the Spider-Man comics created by Stan Lee and Steve Ditko, published by Marvel Comics, as well as the 2002 film about the character, and the Greek myth of Arachne. It tells the story of the origin of the character, his romance with Mary Jane and his battles with the evil Green Goblin. The show includes highly technical stunts, such as actors swinging from "webs" and several aerial combat scenes.
In the year before it premiered, the show gained notoriety for its production troubles, related to both the difficulty of its stunts and frequent retooling of the book and score. Both rehearsals and previews went on longer than expected, and several actors were injured during the process. At the first preview performance, these technical challenges caused several lengthy interruptions. Previews were then suspended for a month in mid-2011 to overhaul the show after negative reviews from preview audiences and critics. Director Julie Taymor, whose vision had driven the musical, left the production at that time, and co-director Philip William McKinley was brought in to redirect portions of the show. The show ended up having the longest preview period (182 preview performances) in history.
Turn Off the Dark officially opened on June 14, 2011. Critical reception of the opening was better than for the earlier version, but mixed at best, with praise for the visual effects but little enthusiasm for the book and score. Turn Off the Dark is the most expensive Broadway production in history, and also holds the box office record for Broadway sales in one week, taking in $2.9 million over nine performances.