Little Shop Of Horrors on Broadway
Theater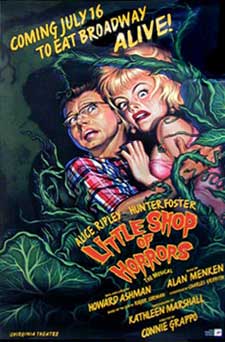 Awards Drama Critics Circle Award for Best Musical
Drama Desk Award for Best Musical
Outer Critics Circle Award
Evening Standard Award for Best Musical
Little Shop of Horrors is a comedy horror rock musical, by composer Alan Menken and writer Howard Ashman, about a hapless florist shop worker who raises a plant that feeds on human blood and flesh. The musical is based on the low-budget 1960 black comedy film The Little Shop of Horrors, directed by Roger Corman. The music, composed by Menken in the style of early 1960s rock and roll, doo-wop and early Motown, includes several well-known tunes, including the title song, "Skid Row (Downtown)", "Somewhere That's Green", and "Suddenly, Seymour".
In addition to the original long-running 1982 off-Broadway production and subsequent Broadway production, the musical has been performed all over the world. Because of its small cast and relatively simple orchestrations, it has become popular with community theatre, school and other amateur groups.The musical was also made into a 1986 film of the same name, directed by Frank Oz.
James Vogel worked on the