Midler divine for her globe-hopping followers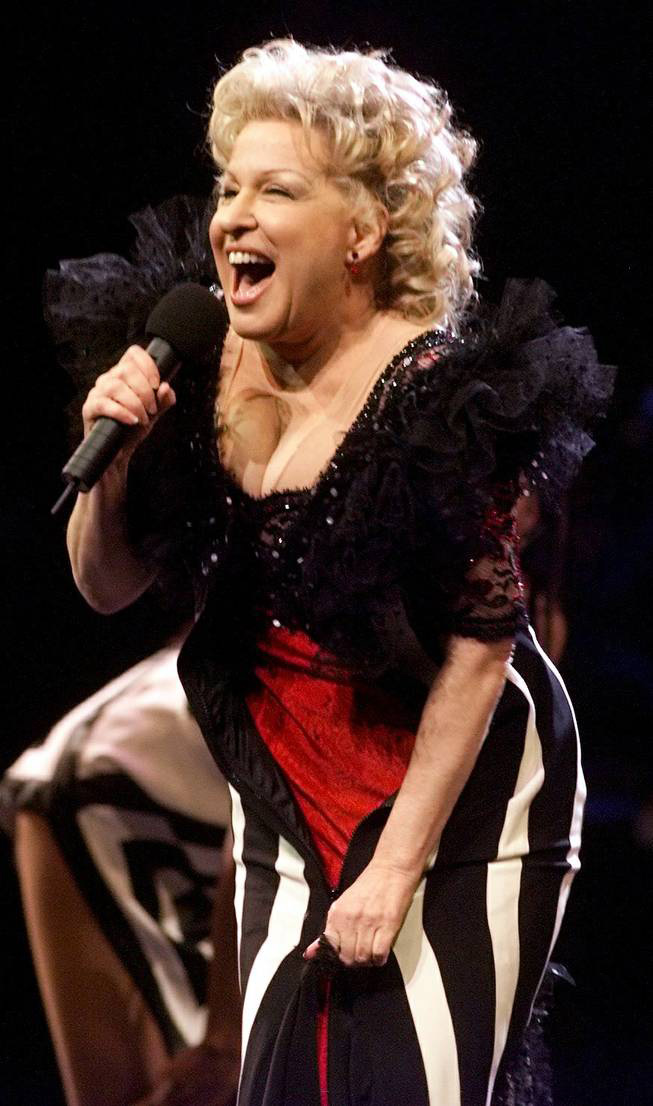 SUN PHOTO
An elevator causes Bette Midler to rise above stage during her "Divine Miss Millennium" tour at the Mandalay Bay Events Center Friday, December 31, 1999.
By Jerry Fink
Monday, Jan. 3, 2000 | 10:26 a.m.
SUN PHOTO
Bette Midler unzips her dress in the middle of a song to reveal another outfit underneath during a performance at the Mandalay Bay Events Center on New Year's Eve Friday, December 31, 1999.
SUN PHOTO
Bette Midler smiles at the audience during her performance at the Mandalay Bay Events Center, Friday, Dec. 31, 1999. This would be the second to last performance of her "Divine Miss Millennium" tour, which was timed to end on the first day of the New millenium Jan. 1, 2000.
"The Divine Miss Millennium" was the best "Bette" for concert entertainment in Las Vegas as the year-decade-century-millennium drew to a close.
Her Divineness Bette Midler gave a performance that delighted the many people who came from around the globe specifically to share the historic occasion with their favorite unrestrained personality.
"I can't believe you came to be with me on the last night of planet Earth," quipped the ever-glowing singer as she strutted around the stage before a near-capacity audience in the 8,500-seat Mandalay Bay Events Center.
But they did.
They came from Scotland, Japan, Brazil and countless other countries, as well as numerous states in this one, not merely to watch the clock but to watch the Divine Miss M.
Shirley Bennet came from Maui, Hawaii, the state where Midler was born and grew up. "The show was over the top," she said afterwards. "I was happy I came."
So were Jack Ritter and Dotty Williams of Houston. "She puts on a really special show," Ritter said.
"Bette's show was fantastic. What a great way to end the millennium," David Moore of Chicago said.
Mindy Oppenheim and Lisa Nieubaru flew in from San Francisco just for Bette. "We love her," said Oppenheim, who first saw her in 1974 and has seen her four times since.
On Saturday Midler ended a 31-city tour in Las Vegas that began Oct. 6 in Boston. In an interview on Thursday, Midler noted that she and her husband, Martin von Haselberg, eloped and were married by an Elvis imitator at a Las Vegas chapel on Dec. 16, 1985.
She has seen a lot of changes since she first began making appearances here. "When I first started performing in Vegas, there were only showrooms. It didn't have arenas like this one," she said.
As she made her "Divine Miss Millennium" tour, Midler generated rave reviews wherever she went. The reviews praised the high-energy show that was a mixture of bawdy stand-up comic routines, gimmicky songs and songs that have endeared Midler to millions of fans — songs such as "The Rose," "Wind Beneath My Wings" and "The Boogie Woogie Bugle Boy."
Midler's comic timing and vivacious personality are complemented by the comedy writing of Bruce Vilanch, who is one of the top funny men in Hollywood. Vilanch has written for Midler for almost 30 years, so he probably knows her as well as anybody.
"She's very real. Bette is not insecure about herself at all," said Vilanch, probably better known for being the writer and a panelist for the new "Hollywood Squares" syndicated game show.
Bette is Bette, and what you see is what you get.
Her devoted fans appreciate her earthiness, her outspokenness, her humor, her unbridled talent and the fact that she does not put on airs or make herself out to be better than they are.
And the eclectic crowd showed that appreciation as they turned out on what may best be described as a Freaky Friday.
Men in tuxedos and women in sequined evening dresses were colored alpaca coats and leather pants and women in skin-tight leopard skin suits.
It was a melting pot of the unusual, of the wired and the weird, of the exotic and the familiar — and they all loved Bette, who included in her comedy routine several jabs at Barbra Streisand, who was performing at the MGM Grand and charging up to $2,500 for a ticket.
At the end of the show, a Streisand imitator joined Midler on stage.
"I slipped away from my show early so I could come over here to see my husband," the impersonator said. "He couldn't afford my show."
The top price for a Midler ticket was $500.
After making a number of jokes about breasts, passing gas and other topics Streisand probably would find distasteful, Midler said.
"What did you expect for 500 bucks — Shakespeare?"
archive